Progirly Menstrual Cup || For Better Period Experience ||
Regular price
Rs.1,990.00
Regular price
Rs.3,000.00
Sale price
Rs.1,990.00
Unit price
per
Sale
Sold out
View full details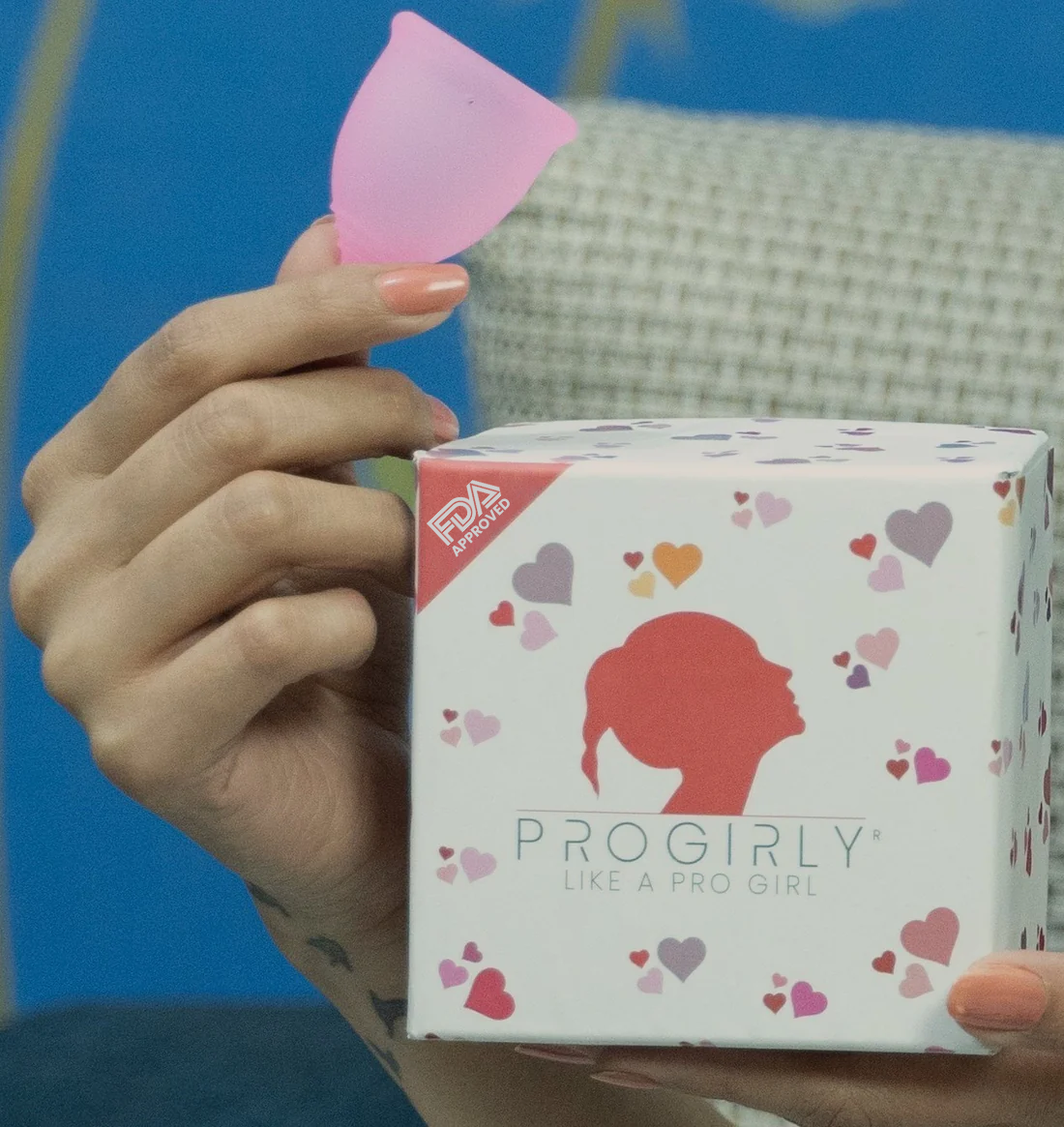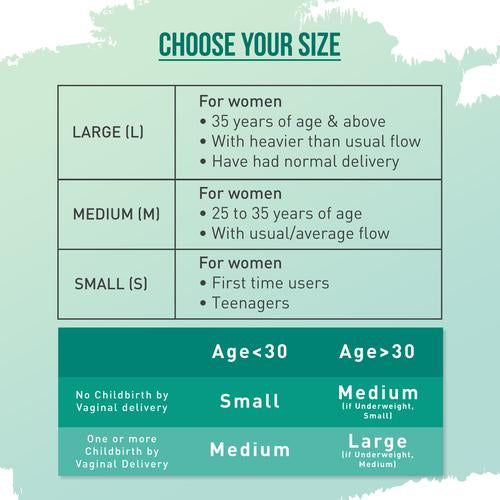 CHOOSE YOUR SIZE
LARGE (L)
For women
35 years of age & above
With heavier than usual flow
Have had normal delivery
MEDIUM (M)
For women25 to 35 years of age
With usual/average flow
Babies with c section
SMALL (S)
Small size
For women
Non married
Teenagers
Let customers speak for us
Folding the cup
Press the sides of the cup between and fold it in half to create "U" shape. OR Hold
the top rim of the cup with your index finger on the top rim, push the
rim down into the center of the cup to create a triangle.
Insert
Get comfortable while sitting on the toilet or standing with one leg up
on the bathtub. Hold the folded cup between your thumb and forefinger
and push the curved edge of the folded cup into your vagina
horizontally. Once the cup is in your vagina, grip the cup base and turn
the cup on one complete rotation-360 degrees. This will create a seal.
That's it! You are done.
Wash
Always wash your Hand before inserting or removing Progirly Menstrual cup. Stress can tighten your muscle, so relax you'll get the hang of this in no time.
Your Periods will Never be the Same Again
Progirly has transformed your problems into freedom; unhygiene into hygiene, sleeplessness into sleepfullness, rashes into smoothness, leakage into dryness, hesitation into confidence, and your fear of judgment into strong independence. its not only a journey of periods, its a journey from being a girl to a "Progirl."  
"Progirly offers what you can't refuse"
Freedom forever! Reusable for upto year! 

With proper care and cleansing, one Progirly menstrual cup can last up
to year, minimizing the monthly cause of sanitary waste and even
saving the environment. In the long term, the cup is also financially a
more viable option than pads.
Amazing Flexibility!

Progirly Menstrual Cups are highly soft and flexible to fit in
perfectly. Thanks to its design! It is an ideal menstrual aid for
swimming and all other kinds of sports, traveling, and common daily
chores!
Spill-proof & Leakage Proof! 

Made with 100% medical-grade silicone, the cup is highly flexible to fit
perfectly, and it collects blood without spillage. The rim of the cup
creates a vacuum seal around your vaginal walls, ensuring reliable,
leak-free protection.
Say Goodbye to Odor & Infection!

Say no to odor with Progirly's easy-to-use menstrual cup. Made with
medical-grade silicone, the cup does not release any odor like other
sanitary products, saving you embarrassment. Also, it doesn't absorb the
blood but collects it, diminishing any chances of infections.
Frequently Asked Question
What is a menstrual cup?

A menstrual cup is an insertable period product that collects rather than absorbs your period flow. As a single cup can be safely re-used for years, it is a highly affordable and eco-friendly alternative to tampons and pads. Menstrual cup users experience a range of life-changing benefits, such as:

Leak-free protection for up to 12 hoursSleeping comfortably through the night Working, exercising, swimming and being active throughout the day `No rashes, discomfort or itching No unpleasant odours No need to purchase or dispose of sanitary pads/tampons Reuse a single cup for up to 10 years
Can virgins use Progirly Menstrual cup?

Can virgins use Progirly Menstrual cup?Yes!
If you are a virgin, you can still use the Progirly menstrual cup. In
fact you can start using the cup as soon as you get your periods. There
is no age limit. However, it does require you are comfortable with your
body and periods.For how long can i wear Progirly Menstrual Cup?Menstrual
cup should be emptied every 8-12 hours. In the beginning, we recommend
that you empty it more frequently while you are
For how long can i wear Progirly Menstrual Cup?

Menstrual cup should be emptied every 8-12 hours. In the beginning, we
recommend that you empty it more frequently while you are getting to
know your cup and flow.
Can i use Progirly menstrual cup with heavy periods?

Yes!
A menstrual cup can be used for heavy periods since it can contain 3X
more than an XL tampon. In the beginning, when you just started using
the cup and knowing your flow, we recommend you empty your menstrual cup
to see how quickly it fills up. If you have a heavier flow, then you
might have to empty your cup twice a day.
Progirly Menstrual Cup Benefits
1.From Unhygienic to Hygienic Experince
2. From Sleepless to Sleepfull Nights
3. From Rashes to Smoothness
4. From Leakage to Dryness
5. From Hesitation to Confidence
6. From Fear of Judgment to Strong Independence.
Order Now
A Doctor is Always Right!
Dr.Sehrish explains every bit of Progirly Menstural Cup. She clears all the misconceptions about menstural cups and guides you what Progirly is, how to use it, and how it benifits you. 
The Doctor Herself is not only a User but Also a Fan!
Arfa, an inspiring young doctor, sharing her experience with Progirly how it made her student life better and helped her achieve great scores in her university life.
The Working Woman Knows Best!
Sanaya is a working woman who shares her troubled experience of buying pads again and again. She shares how Progirly saved her from repetitive purchasing and avoided awkward public encounters.   
A Homemaker's Opinion is Vital!
 Haya, a homemaker, describes how Progirly fits woman anatomy. She shares how Progirly helped her attain absolute freedom to do her daily home chores and the freedom to wear her favorite dresses when she attends family functions.   
A Student's Journey from Sleepless to Sleepfull Nights!
Saba is a student who previously faced issues of leakage and disturbed sleep. She shares how Progirly changed her life, fixed leakage issues, and helped her say goodbye to sleepless nights.
How to Choose the Right Size, How to Use it, and its Benifits